Lincoln School Backpack Drive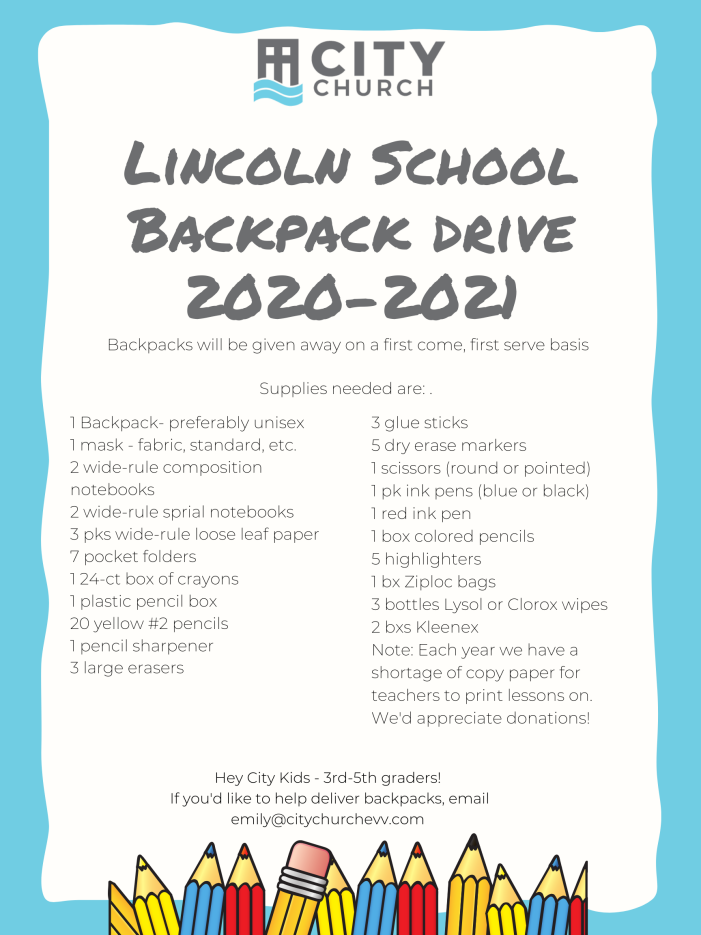 ---

City Kids / City Middle Guidelines and Registration


Masks will NOT be required for kids, but they will be required for volunteers/teachers for the month of July.

Online registration for kids will be required prior to Sunday for kids. Kids should register according to their incoming grade level.

City Kids will only hold childcare/classes for the 9:15 service until school resumes in August. We will re-evaluate at that time and make changes accordingly.

Rooms will be thoroughly cleaned prior to Sunday and there will be hand sanitizing stations outside each room.

There will be a small table outside each room with a name tag/guardian tag for each child in that room registered. We ask that parents pick up tags and keep guardian tags for pick up.

We will keep numbers per class small for the month of July as we navigate new territory and figure out how to make things manageable. Registration number limits include:

Infants newborn-18mo (will meet in infant room): 3 kids

Toddlers 18mo- Pre K 3s (will meet in toddler room): 8 kids

Pre K 4's/5's-1st grade (will stay together and be dropped off in Pre K room): 10 kids

2nd-5th grade (will stay together and be dropped off in large group room): 10 kids
Our HUGE goal for the month of July will be continuing to teach kids about Jesus, keep them socially distant, but also be having FUN!!! We have planned their experience with this in mind.
Outside our City Kids Hallway, we will now have a fenced in outdoor space for kids to play. At the end of the July this space will include a really amazing playground for our kids to enjoy year around. Woo hoo!

Pre-K-4/5's- 1st grade will have a fun animal decal/doodle board spaced apart on the floor to sit when they first come in. 2nd-5th grade will have a multi-colored circle pillow/fun craft spaced apart on the floor to sit and work on when they first come in.

Please register below for the August 9th service:
Infant Care
Toddler-PreK (3's)
PreK (4/5's) - 1st Grade
2nd-5th Grade
Middle School
---

City Kids
Here in City Kids we aim to create a fun, engaging, and safe environment for kids to establish a foundation in Jesus and his word, the Bible. Your child will participate in age appropriate worship, stories, and games to help them learn more about Jesus and what it means to have a true relationship with Him. We offer classes for Infants (Birth-18 mo), Toddlers (18-36 months), Pre K (3-5 years old), K-2nd, and 3rd-5th. Each of these classrooms are tailored specifically for age appropriate interactions, teaching, and activities through a biblical curriculum.


If you'd like to Volunteer in City Kids, please click HERE.
---
Check In
We begin check-in for each service at 9:00 and 10:45. During your first visit to City Church, you will be asked to fill out information about your child and family. In your future visits, you will check- in with one of our volunteers at the check-in stations. If you're planning on coming for the first time and would like to cut to the front of the line, fill out the form HERE to plan your visit, and we'll have someone waiting for you when you get here to make sure check in is totally stress-free.
Allergies
If your child(ren) has an environmental or food allergy, it can be printed on their name tag. Volunteers will always ask before offering a snack or drink. If an activity calls for an item that is a known allergy for your child(ren), we will let you know ahead of time so that we can accommodate appropriately.
Safety & Security
The safety and security of the children who attend City Church is important to us. Every volunteer must submit an application that includes a background check and references before they begin working. When you check in each week, you'll receive a guardian tag that you will use to pick up your child. In the event of an emergency, the number found on the guardian tag will show up briefly on the screen in the sanctuary.
Home Engagement
Each week your child will bring home a "Big Picture Card" which includes a summary of the story, the main point of the activities, and the Bible verse. This is intended to be discussed and reviewed through the week.
City Kids Points
PreK-5th grade kids will earn City Kids points for memorizing bible verses, attendance, participation, and bringing friends. They cash in their points each month at our City Kids store.