SpringHill Camp 2020
SpringHill partners with hundreds of local churches to bring the camp experience to you! Meaningful lessons built into activities that are both fun and character building. Children participate in large group time with skits and songs, followed by small group discussions about what they have learned. The day is filled with awesome adventures: conquering the climbing wall, soaring high on the flying squirrel, and many more fun and unforgettable experiences!.
Kids will build confidence and make new friends, but won't have to worry about being homesick! Our highly trained staff focus on your child having a spectacular week at day camp!

when
July 20-24
Monday-Friday
9am-4pm
Before/After Childcare Available
where
City Church
314 Market Street
Evansville, IN 47708


who
K-4


Cost

$209 Full Price
$229 One month prior to camp start date
Scholarships Available


Register
Promo code is automatically applied for $89 off fee to the first 70 campers.
Click HERE to register!


---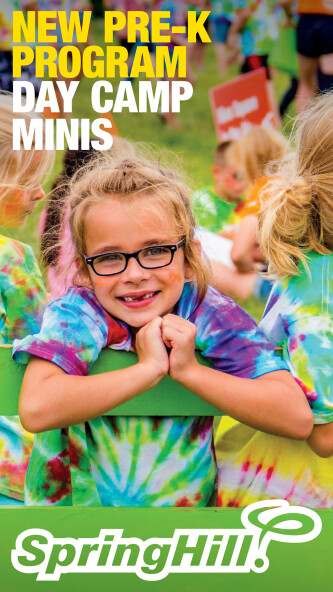 SpringHill Day Camp
Fun for Your Pre-K Child!
We're so excited to bring a SpringHill Day Camp experience to kids entering kindergarten. This new program is designed just for your pre-k child and provides a fun, intentional space for kids to engage in new activities, make new friends, and explore new adventures.
Your Day Camp Mini will:
Engage in faith based lessons
Try new things
Create, sing, and dance
Meet new friends
Grow in responsibility + independence
Have a ton of fun!

A half day experience perfect for the curiosity and wonder of your child!


when
July 20-24
Monday-Friday
9am-12pm or 1pm-4pm


where
City Church
314 Market Street
Evansville, IN 47708


cost
$109
Limited spots available


Register
Use PROMO CODE: 20EVANSVILLE50 for $50 off camp fee

Click HERE to register!


---

Volunteer

There are several areas that we need volunteers:
CIT- High school volunteers

Host Homes where the Spring Hill staff will stay during the week of camp

Lunch prep and registration volunteers

Gathering Homes- dinner and hosting Spring Hill staff on Tuesday and/or Thursday
Click HERE to volunteer at SpringHill camp this summer!


---

City Kids
Here in City Kids we aim to create a fun, engaging, and safe environment for kids to establish a foundation in Jesus and his word, the Bible. Your child will participate in age appropriate worship, stories, and games to help them learn more about Jesus and what it means to have a true relationship with Him. We offer classes for Infants (Birth-18 mo), Toddlers (18-36 months), Pre K (3-5 years old), K-2nd, and 3rd-5th. Each of these classrooms are tailored specifically for age appropriate interactions, teaching, and activities through a biblical curriculum.


If you'd like to Volunteer in City Kids, please click HERE.
---
Check In
We begin check-in for each service at 9:00 and 10:45. During your first visit to City Church, you will be asked to fill out information about your child and family. In your future visits, you will check- in with one of our volunteers at the check-in stations. If you're planning on coming for the first time and would like to cut to the front of the line, fill out the form HERE to plan your visit, and we'll have someone waiting for you when you get here to make sure check in is totally stress-free.
Allergies
If your child(ren) has an environmental or food allergy, it can be printed on their name tag. Volunteers will always ask before offering a snack or drink. If an activity calls for an item that is a known allergy for your child(ren), we will let you know ahead of time so that we can accommodate appropriately.
Safety & Security
The safety and security of the children who attend City Church is important to us. Every volunteer must submit an application that includes a background check and references before they begin working. When you check in each week, you'll receive a guardian tag that you will use to pick up your child. In the event of an emergency, the number found on the guardian tag will show up briefly on the screen in the sanctuary.
Home Engagement
Each week your child will bring home a "Big Picture Card" which includes a summary of the story, the main point of the activities, and the Bible verse. This is intended to be discussed and reviewed through the week.
City Kids Points
PreK-5th grade kids will earn City Kids points for memorizing bible verses, attendance, participation, and bringing friends. They cash in their points each month at our City Kids store.